Boston has added more than 900 new rooms to its hotel inventory, with properties opening in the Seaport District, Downtown Crossing, and at Station Landing in Medford.  
On D Street in the Seaport District, adjacent to the Boston Convention and Exhibition Center (BCEC), Starwood Hotels & Resorts Worldwide, Inc. opened the Element Boston Seaport and Aloft Boston Seaport on January 14 and February 4, respectively.  The sister properties occupy a 5.2 acre parcel located just off the Lawn on D and increase the Seaport District hotel inventory by 510 rooms.  The Massachusetts Port Authority, meanwhile, is soliciting bids for development of a 500-room hotel across from the BCEC.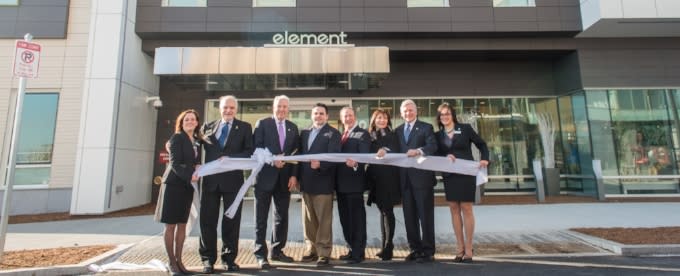 "We are excited to welcome the Element and Aloft brands to Boston," said Pat Moscaritolo, President & CEO of the Greater Boston Convention & Visitors Bureau (GBCVB).  "These properties will help us better serve our city wide convention groups as well as serve the dramatic growth in international visitors and families looking for hotel availability in our Seaport district."
Downtown Boston continues its robust revitalization with the opening of the 242-room Godfrey Hotel Boston.  The Godfrey brand opened their first hotel in Chicago in 2013 and quickly eyed a second location in Boston.  Oxford Capital Group purchased the Amory and Blake Buildings at 59 Temple Street and unveiled the new hotel on February 3 with an opening ceremony that included remarks from Bureau CEO Pat Moscaritolo as well as Boston Mayor Martin J. Walsh and Downtown Boston BID President & CEO Rosemarie Sansone.  The Godfrey Hotel Boston will open a restaurant and George Howell Coffee later this year. 
Boston will also see the arrival of three Marriott AC Hotels, a flag that's essentially brand new in the United States.  The first is the 152-room AC Hotel Boston North in Medford, which opened March 1 and is within easy walking distance to Assembly Row and Wellington Station.  Later this spring, a 150-room AC Hotel will open at Cambridge Discovery Park, and a third AC Hotel is slated to open in 2017 at the Ink Block Project in Boston's South End.
Please visit the GBCVB Press Room for a comprehensive overview of upcoming hotel openings in the Greater Boston area.
###