It's now August, which means summer break is in its home stretch and Boston must prepare itself to reunite with thousan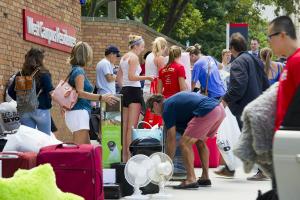 ds of college students coming back from their hometowns, tropical vacations, and summer semesters abroad. There is nothing like the crazy and thrilling atmosphere of 150,000+ kids running up and down the streets of Boston, filling up department stores, and dragging old (or perhaps new) pieces of furniture into college dorms.
From early September until mid-May, Boston transforms itself. It goes from being just another American city into the home of thousands of kids from all corners of the US – and the world. As a college student myself, I can testify that the city does a pretty good job of making us feel welcome – from the swings at the Lawn on D to the bleachers of Fenway Park, Boston becomes our new playground. One never forgets their first time watching the Celtics play at the Garden, or indulging in that first chocolate chip cannoli from Mike's Pastry.
There's nothing like seeing Boston's college students change and grow with the seasons. As the weather begins to cool and the leaves start to turn, the students have officially settled in and are getting excited for all the apple and pumpkin picking that is yet to come. As midterms kick-in, Halloween also approaches and the city is filled with young adults dressed up in all sorts of costumes. By the time the leaves start falling, we consider ourselves Boston city experts – until winter shows up and puts us back in our place. Nevertheless, the glow of Christmas trees at Faneuil Hall Marketplace and on Boston Common, and the crowds of shoppers going up and down Newbury Street on the hunt for the perfect gifts warms up our hearts again.
As winter break comes around, most of us are eager to go escape to our hometowns or vacation spots for a bit. Little do we know those three weeks will soon seem like an eternity away from our adopted city that we have all grown to love. As January comes, students are already counting down the days until they're back in their homes (aka dorms). And as the snow begins to fall most students have returned and are now basically skating down the roads of Boston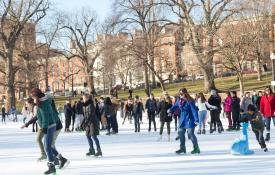 in failed attempts of getting to class on time – and hopefully without slipping. There is nothing better than having your university announce that classes are cancelled for a "snow day." The storm becomes the perfect opportunity for college kids to venture into a snowball fight on Boston Common or go for a twirl on the Frog Pond ice skating rink.
So, as it begins to seem like winter will never be over, the flowers start to bloom and spring shyly begins to appear. Students are putting their parkas away and finally sporting flipflops. As Boston blooms, it's the perfect time to go on a scavenger hunt for new brunch spots, get some new wardrobe additions at the Prudential Center Mall, check out a Sox game, or attend a music festival like Boston Calling. No matter your taste, Boston has endless options – and you'll most likely never have enough time to do everything on your to-do list; as the academic year ends, you are once again leaving with the feeling that there was so much more to see and do.  But the great thing is – you'll be thinking of how grateful you are to go to school in a city that makes it so hard to leave and so very easy to come back. And don't worry, there's always next year.