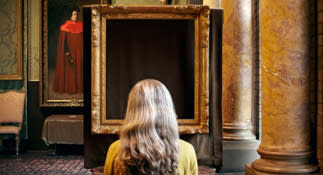 The exhibition, Last Seen, coming to the Isabella Stewart Gardner Museum isn't so much about nothing as it is about the absence of something. The something, really somethings, in question are the 13 objects that were stolen from the museum in an infamous 1990 heist that attracted worldwide attention. There was a break in the case recently with the FBI announcing that it had identified the thieves, but the artwork has not been found to date.

In a kind of meta project, French artist Sophie Calle used the theft as the basis for her work, Last Seen. Shortly after the robbery, she interviewed museum staff and asked them to reminisce about the missing pieces. Using their recollections, Calle wrote text and included photos to create her exhibit, which is partly about the stolen art, but also about loss and other more universal themes. Last Seen has been shown at museums around the world and will come full meta circle to the Gardner Museum.

In honor of the missing pieces, which include works by Rembrandt and Degas and is valued at $500 million, the museum re-hung the original, empty frames in the galleries where the art was once displayed. It is an eerie and potent reminder of the crime and the absent objects. The addition of Last Seen should make them even more eerie and their absence even more poignant.

Last Seen
October 24 through March 3, 2014
Isabella Stewart Gardner Museum
280 The Fenway, Boston

 

Photo: Isabella Stewart Gardner Museum.