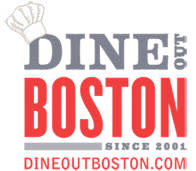 For the past 13 years, one of the most highly anticipated events has been Restaurant Week Boston. Held twice a year in March and August, patrons have been savoring meals at over 200 of the area's finest eateries while paying bargain prices. If you have been among the many fans of the event, I have some good news and bad news. First, the bad news: Restaurant Week Boston is no more. Finis. Kaput. Check please! Now, the good news: In its place will be the new and improved Dine Out Boston.

What's up with that, you wonder? I'm glad you asked. First of all, each iteration of the event has been spanning two weeks for the past few years, so the name was misleading (and "Restaurant Weeks Boston" just wouldn't sound right, right?). Second of all, the concept has changed a bit, so it was time to rebrand the event.

Don't worry. We haven't fiddled with the core of the concept. You'll still be able to savor delicious, creative, and inspired fare at dozens of restaurants throughout the region at tremendous savings. What has changed is that we will be giving the restaurants more freedom in developing their menus and prices. Because eateries run the gamut, a one-size-fits-all model didn't really make sense.

Now, restaurants can choose one of three prices to charge for their Dine Out Boston multi-course lunches: $15, $20, or $25. The options for dinner will be $28, $33, or $38. Chefs will be able to design a menu that will best represent their restaurants and showcase their culinary delights. You'll be able to enjoy sumptuous meals and save some serious coin.

It's not too early to mark your calendar for Dine Out Boston. The late winter version will be held March 16 to 21 and March 23 to 28. Get your tastebuds ready by checking out the participating restaurants, perusing the meals and deals, and making reservations at the spiffy new Dine Out Boston site.