ArtWeek Boston, the Hub's biannual civic arts festival, returns this week with an amazing lineup of interactive events.  At the intersection of creativity and community, ArtWeek uses Boston as its canvas to evoke visceral artistic impulses and engage in the artistic process.  Participation is key.  Think of it as creative osmosis, with Boston itself – the city's streets, parks, open spaces, and cultural institutions – as the physical framework where collaborative art happens and our sense of community is enhanced.  Boasting more than 180 events in all, most of them FREE, ArtWeek events occur throughout the Commonwealth but Boston is indeed the Hub.  Here's a rundown of some can't-miss ArtWeek happenings.
While the 10 day celebration begins on September 30, don't miss the pARTY on the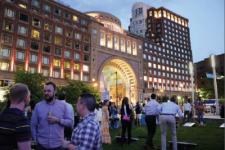 Greenway Kick-Off event happening September 29 from 6pm-11pm.  How befitting that the Greenway, an incubator of public art and expression, plays host to this opening act.  Food, music and the arts come together at the Wharf District Parks with Ai Weiwei's Circle of Animals/Zodiac Heads as the centerpiece of a visual arts extravaganza.
Septemb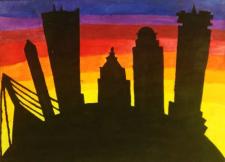 er 30, the festival's first full day, showcases the collaborative nature of ArtWeek as the Citi Performing Arts Center, which produces ArtWeek, joins with Boston Public Schools for Marque Moments.  BPS students will create artwork to be displayed on the iconic marquees outside the Wang and Shubert Theatres.  The students' work will be featured at both theatres from 12pm-6pm throughout ArtWeek.
Also on September 30, around the corner at the Boston Opera House, join Boston Lyric Opera for a behind-the-scenes tour of the historic venue and an inside look at the production of Carmen, Calixto Bieito's U.S. opera debut.  If the Opera House represents one end of Boston's architectural identity, one could argue that the Brutalist edifice of Boston City Hall embodies the other end.  On September 30, however, both are ArtWeek backdrops.  From 6:30pm-9pm musicians Ernst Karel & Bhob Rainey (duo) and Caroline Park (solo) perform in the capacious concrete mezzanine of City Hall.  How will the complex acoustics affect the artists' range and octaves?  Head to City Hall and hear for yourself!
Day 1 concludes in sty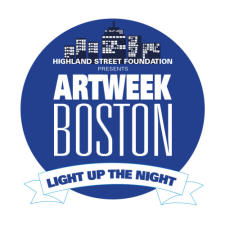 le with Light Up the Night.  Myriad colors will illuminate Boston's skyline in a spectacular celebration of ArtWeek Boston's fall return.

October 1 brings a fantastically fluid tableau creation called The Rotating Portrait to the Boston Public Garden.  This four hour exercise involves six artists, working in different media, depicting one costumed model who is striking one pose.  Things get interesting when the musical chairs begin – every half-hour the artists will rotate one position to the right and work on a portrait that another artist has already started.  Will the artists adapt or impose their styles on others' renderings? 
Explore cross-cultural exchange on Day 2.  At the Franklin Park Wilderness Picnic Grove artists from neighborhoods surrounding Franklin Park – Roxbury, Mattapan, Dorchester and Jamaica Plain – will cultivate and activate the Franklin Park Art Grove, filling the area with music, dance and artwork to "offer new frames of reference through which to appreciate our public open space." For multinational cultural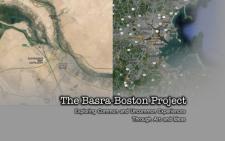 exchange, head to Fort Point Channel that evening for the Basra-Boston Project, a working example of how the arts transcend cultural differences (a hallmark of ArtWeek Boston).  The Project is connecting Boston artists, scholars and students with counterparts at the University of Basra in Iraq, and this free event includes readings, presentations and exhibits that have emerged from this cross-cultural contact.
Public art is on the ascendant in Boston and ArtWeek explores its proliferation.  Think you know all about Boston Duck Tours? Think again. The amphibious vessels get really ambitious with the Public Art Duck Tour on October 2. Cruise the streets and splash down in the Charles while learning about Boston's rich collect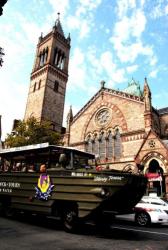 ion of public art and street sculptures.  Perhaps you prefer street art and graffiti ingenuity.  ArtWeek has you covered! On October 8 join Cedric Douglas, artist in residence at Northeastern Center for the Arts, for a narrated tour of Boston's vibrant street art.

Another well-known institution, the Museum of Science, introduces a new chapter to its SubSpace Project Series with the production of SubSpace: Prince on the evening of October 2.  The Charles Hayden Planetarium dome will pulsate with cascading visuals projected in cadence with tracks from Prince's magnum opus – Purple Rain.  After the show, planetarium producers will provide exclusive insight into the imagination behind the exciting new Subspace Series.
Ultimately, it is this access to the creative process that ArtWeek Boston is all about.  Theater productions are pulling back the curtain to provide such access.  Cast members from the Huntington Theatre Company's Sunday in the Park with George will participate in an actor's forum on October 5 and discu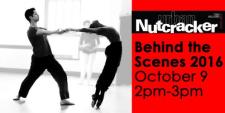 ss their approach to performing Sondheim's musical numbers.  Curious about how literary classics incorporate modern dance? Attend an open rehearsal of Maiden Phoenix Theatre Company's adaptation of Jane Austen's Sense and Sensibility on October 6.  And on October 9, a dynamic holiday favorite – Tony Williams Dance Center's Urban Nutcracker – will give audience members a sneak preview of their 16th season.  Q&A with Williams and Costume Designer Dustin Rennells follows the rehearsal.
Not to be left out, Boston's singular history and signature architecture also shine on the ArtWeek stage.  Go on a literary tour of the Omni Parker House on October 4 with resident historian Susan Wilson, who will regale with tales of Charles Dickens' readings of A Christmas Carol and the emergence American literary giants Emerson, Thoreau and Hawthorne.  In nearby Beacon Hill, on October 9, join Boston by Foot for a neighborhood tour of 20th Century literary history, an era often obfuscated by its famous Victorian forbears.  And what's a Boston festival without some Revolutionary history?  Visit the Old State House on October 7 for Spinning History: Heroines on the Homefront which demonstrates the invaluable contribution of female hand-spinners and textile workers during the American Revolution.
There really are just too many great events to cover in one piece.  ArtWeek Boston is an extraordinary display of multi-media performance and engagement.  From poetry and dance at Mount Auburn Cemetery, to an Afro-Caribbean Master Class with Henry Cole, the 10 da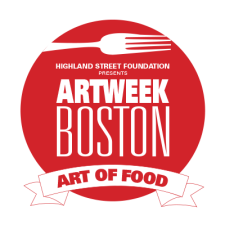 y celebration offers a dynamic range.  We haven't even mentioned food.  Art of Food is ongoing throughout ArtWeek, encouraging chefs to create menu items and pairings that play off a favorite artist, album or piece of art.  If you haven't yet been to the Boston Public Market, go during ArtWeek when Local Libations and Still Life Drawing sessions stimulate culinary creativity. 
As the curtain comes down on ArtWeek, another arts celebration comes to life with the Opening Our Doors Festival in the Fenway Cultural District.  And in true Boston fashion, the two festivals will cleverly dovetail when ArtWeek concludes on October 9 with OOD Go!, a "Matilda" scavenger hunt.  The first 3 people to find the 6 hidden Matildas in the Fenway Cultural District will win a Fenway gift pack at the Opening Our Doors kickoff event October 10.  You see, in Boston the arts and art festivals don't exist in silos.  The arts are everywhere and the interplay between everyday life and artistic interaction is around every corner.  ArtWeek Boston simply accentuates this reality and invites open participation.  Don't miss out!