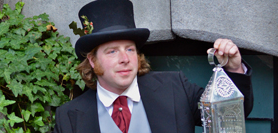 One of Boston's most popular attractions is the 
Freedom Trail
. At any time of year, the red-bricked walk offers visitors and locals alike the opportunity to explore our fair city and the critical role it played in the history of the nation. But it is only during this time of year that guests can take a special Historic Holiday Stroll along the Freedom Trail.
Instead of a Revolutionary War-era guide (Bostonians weren't all that into Christmas in the 1700s), the tour is led by a guide who appears to have been transported from a 19th-century Charles Dickens novel (never mind that Dickens was, you know, British. Fun Boston fact: Dickens' A Christmas Carol had its American debut here when the scribe himself read his holiday classic to great acclaim.)
During the stroll, participants discover how Christmas was celebrated in the city when the nation was young. The guide also mixes the holiday spiel with information about the American Revolution and how it unfolded in Boston from a 19th-century perspective. The tour concludes with a visit to the historic Omni Parker House for some hot chocolate and a slice of Boston Cream Pie. (Fun Boston fact 2: While Dickens was giving his readings of A Christmas Carol, he stayed at the Parker House.)
What better way to make spirits bright during the holidays than by imbibing in some sprits? It turns out that the patriots who led the revolution and helped found the country enjoyed getting a bit buzzed as much as we enjoy spiking our eggnog and toasting the New Year.
The folks who run the Freedom Trail also offer an Historic Pub Crawl tour that takes guests to the Union Oyster House and three other watering holes to learn how Boston's taverns gave the city's early leaders an informal place to meet and foment their ideas (and perhaps gain some liquid courage). At each stop, some food is served along with Sam Adams beers. By the end of the tour, you may be fomenting your own revolutionary ideas.
Historic Holiday Stroll
Through January 31, 2014
90-minute tour
Reservations required
Historic Pub Crawl
Tuesdays at 5:30 p.m., year-round
Reservations required