The Greater Boston Convention & Visitors Bureau (GBCVB) is proud to have the Museum of African American History and Revolutionary Spaces as the charitable beneficiaries for Dine Out Boston this August. These institutions represent some of Boston's most cherished and complicated histories; their mission is to ensure that traditional narratives are re-interrogated and that the past truly does inform and impact the present and the future.  The GBCVB is honored to provide them with Dine Out Boston auction funds to assist in this critical mission. 

Museum of African American History
For two centuries the Museum of African American History has served as an essential civic and political space in the pursuit of an equitable society.  During these trying times, as disparate pandemics collide and have a disproportionate impact on communities of color, the opportunity to embrace and understand African American history in Boston is more important than ever.  One of the museum's current exhibitions, "Selections from the Collection," features over 3,000 items that the museum has obtained over the past 50 years.  Together, the art and artifacts that make up this exhibition create a unique lens by which to view the "narrative of African-descended people, places and events in America."  These items reveal an authentic tale of how Boston's free black and abolitionist community collaborated to build a network of advocacy and agency.
Revolutionary Spaces
Over at Revolutionary Spaces – the newly merged partnership between Boston's Old State House Museum and Old South Meeting House – the exhibition "Reflecting Attucks" takes a fresh look at the life of Crispus Attucks, a man of African and Native descent who was the first person killed during the Boston Massacre.  The exhibition analyzes Attucks's place in the memory and civic imagination of the American nation, including generations of Americans who have seen, "their own reflection in the image of a man of mixed race standing in the face of fierce opposition."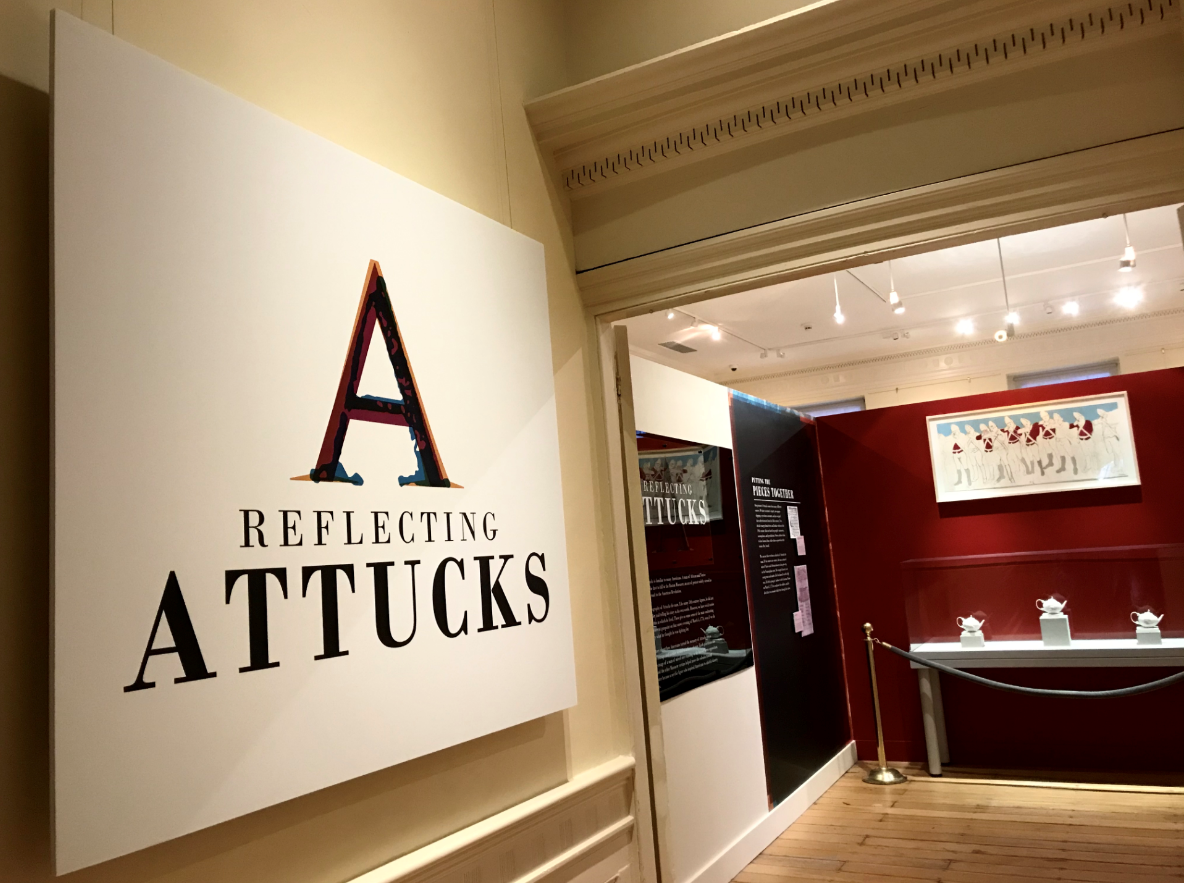 A panel series will occur as part of the "Reflecting Attucks" exhibition, with the first conversation happening on September 16 at 4pm.  The first panel is entitled "Attucks: A Man of Many Worlds," and will delve into Attucks's Afro-Indian identity and what experiences may have influenced his world views.  Panelists will include:
Kerri Greenidge, Mellon Assistant Professor in the Department of Studies in Race, Colonialism, and Diaspora at Tufts University, and author of Black Radical: The Life and Times of William Monroe Trotter
Chris Newell, Executive Director and Sr. Partner to Wabanaki Nations for the Smithsonian-affiliate Abbe Museum in Bar Harbor, Maine
Jared Hardesty, Associate Professor of History at Western Washington University, and author of Black Lives, Native Lands, White Worlds: A History of Slavery in New England  
On August 25, the Museum of African American History will host a conversation with E. Dolores Johnson, the author of Say I'm Dead: A Family Memoir of Race, Secrets, and Love. Johnson is the daughter of an African American father and white mother.  After receiving degrees from Howard University and Harvard Business School, she began to do family research and discovered, to her astonishment, that the entire white half of her family was missing from the ancestral tree.  In unwinding the mystery, Johnson happened upon layers of secrecy and separation that her family endured as part of the mixed race experience in America. She will be joined on screen by guest moderator L'Merchie Frazier, Director of Education at the Museum of African American History in Boston and Nantucket. Register today! 
These institutions, and the exhibitions and conversations they create, are focused on connecting the past with the present.  Please place bids in our auction to be a part of this important endeavor.  Dine Out Boston is a signature program for GBCVB member restaurants but we'd be remiss to not take this opportunity, particularly this year with these charitable partners, to not shine a light on all the minority-owned restaurants, and other businesses, that operate in greater Boston.  We encourage our readers to patronize the businesses compiled by @blackownedbos – including an extensive map of restaurants.