Eat. Shop. Learn.
Where better to find authentic Italian cuisine without a passport than Boston's very own Eataly? Located in the Prudential Center, Eataly is easily accessible to everyone – perfect as they have something for every palate. From house-made cheeses to fresh exotic seafood, to signature pasta varieties, Eataly ensures that the freshest ingredients are procured to make your visit there worth repeating. Eataly promises three things to its guests: Choice, Accessibility, and Knowledge, so it is no surprise that enjoying the variety of well-priced, delicious food also becomes an enriching educational experience on Italian culture. As Eataly would put it "The more you know, the more you enjoy."
In addition to an extensive marketplace of fresh food, drinks, and kitchen essentials, Eataly has four restaurants that visitors can indulge in. Terra, Eataly's newest dining option, is inspired by earth and fire; which is clearly represented by the open atmosphere of calming nat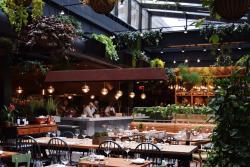 ural light, a variety of vegetation, and a wood-burning Italian grill located in the center. Chef Dan Bazzinotti utilizes this open-flamed grill daily, so be sure to try his unique Italian cooking skills while enjoying an eclectic and ever-changing array of barrel-aged beers. La Pizza & La Pasta offers classic Italian staples (as the name indicates) where professional pasta chefs and pizzaioli (pizza makers) prepare your meal right before your eyes. In the mood for seafood? Il Pesce, Eataly's tribute to the sea, captained by acclaimed Boston Chef Barbara Lynch, prepares exquisite meals featuring many types of seafood. Last, but not least, La Piazza is modeled after the convivial city squares of Italy, and provides an informal, friendly atmosphere to enjoy a bite to eat with the whole family.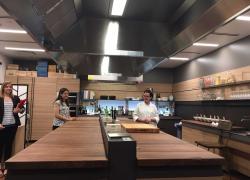 Eataly isn't just a dining experience, it's an educational one as well. The plethora of specialists are more than happy to share their culinary and craft knowledge with inquiring visitors. Whether it's learning about how cheese is made, or which wines originated from specific regions of Italy, Eataly shares its passions with thousands of visitors that pass through daily. Searching for a unique gift for someone? Consider the popular "Back to Basics" cooking classes, which offer a one-time cooking lesson on a selection of different disciplines. These small, hands-on classes sell out quickly, so be sure to book in advance here! If you love delicious food, learning about different cultures, or just want to have a memorable time out, Eataly is the place to be. Buon appetito!