Bus.com's shuttle from downtown Boston to Foxborough is back! And, here's why it's the easiest way to get to Gillette Stadium, and to enjoy game day with other Patriots fans.
If you're traveling to Boston and have lined up the opportunity to view a football game, you might be wondering about the easiest way to get to Gillette Stadium from the downtown Boston area to witness the New England Patriots playing on home turf.
As it turns out, there's an easy and inexpensive way to get to the game, and it will also give you the opportunity to experience what a perfect game-day is like for Pats fans. The Bus.com shuttle to Gillette Stadium is a budget-friendly ride in a comfortable environment, where fans can enjoy a cold one and not worry about parking, or designated drivers.
Read on to find out why the $38 round-trip to Gillette stadium will give you the perfect tailgating experience, whether you're traveling alone or as a group.
Travel to Gillette Stadium with Other Pats Fans
The Bus.com shuttle to Foxborough is a great way to meet Bostonians and other travelers in-town for the game. A comfortable coach bus will pick you and about 50 other fans up at 177 Huntington Ave in Boston, and you'll be able to enjoy the 1h15min ride to Gillette Stadium in a climate-controlled environment.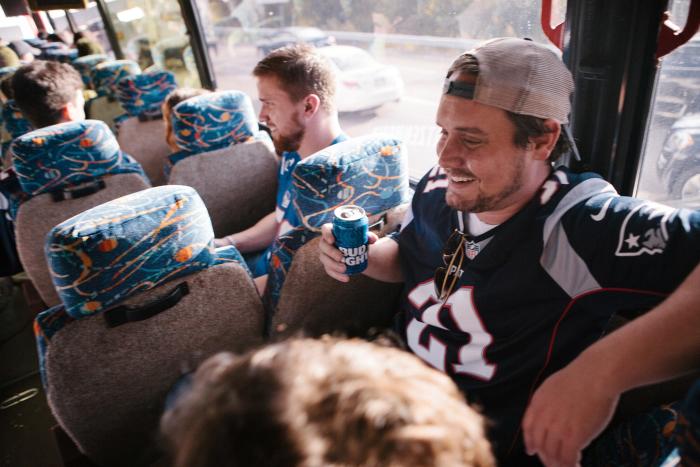 Sit back, relax, enjoy a comfortable ride, mingle with other fans, and have a cold one. Oh, and who cares if there's traffic? The luxury coach bus has a bathroom on board, and you're in good company!
Experience Tailgating Before Kickoff
Shuttles depart earlier in the day to give fans the time to fire up some grills, and bond over their love of football. Traveling by coach means that you'll be able to bring tailgating essentials like folding chairs, portable electric grills, and coolers.
"I was running late and they waited for me. Beyond grateful for that. I was able to chat with them to give them a heads up. I am not from Boston so I didn't know anyone but I was able to jump on the bus with all Pats fans and enjoy a beer and got to know a lot of people. It couldn't have worked out any better."
- Michael Sosnowski, Rider - Boston to Gillette Stadium for Chiefs at Patriots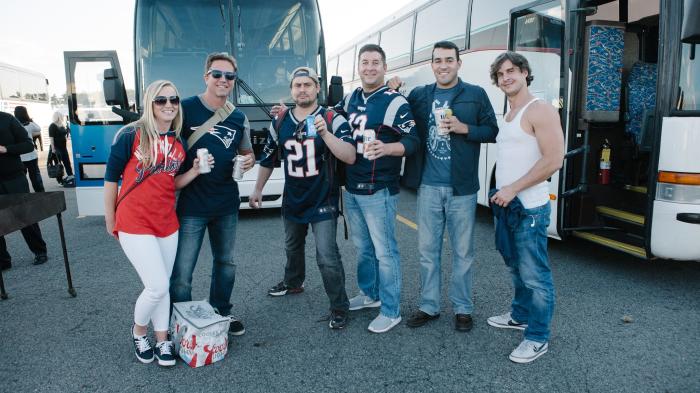 The Bus.com shuttle to Gillette Stadium will drop you off in the oversize vehicle parking in lot 52, and remain parked there for the duration of the game. Tailgaters will be able to set up their gear adjacent to the bus, or walk around and meet other football fans.
Get Home Safely After an NFL Game
If you loved the trip there - wait till you experience the ride back! Riding in a coach bus with a designated driver behind the wheel, Patriots fans can relax knowing that they'll be dropped off downtown without having to scramble for an overpriced rideshare.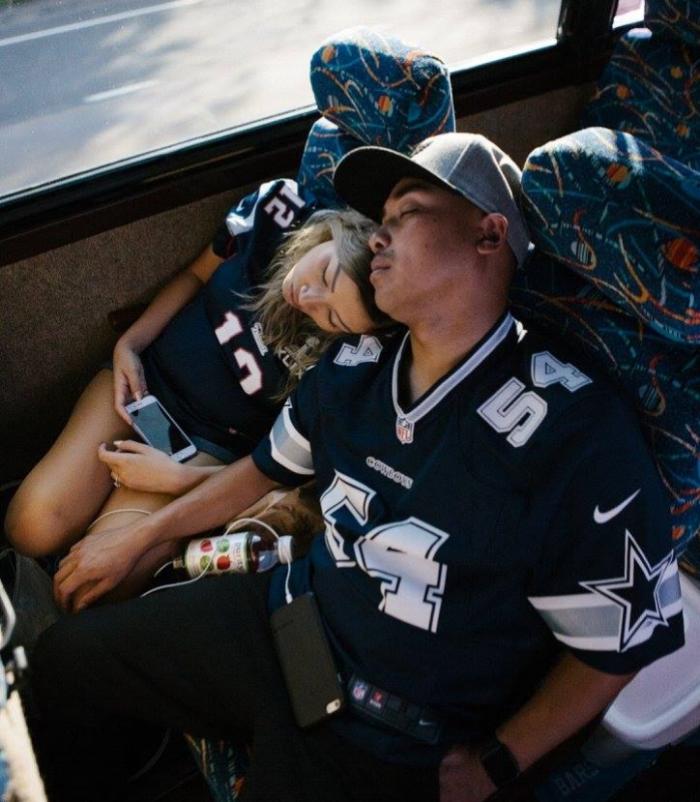 Take advantage of the comfortable seats to catch a nap, and keep your strengths for the next day's adventure in Boston.
Bus.com's shuttle will pick-up riders at the same spot in lot 52 they were dropped off. In the event of the game running in overtime, departure times will be extended to 15 minutes after the game ends or to 11:30PM, to allow fans to watch the remainder of the game.
Plan Game Day Early
Already got your New England Patriots game tickets? Book your bus tickets in advance, and tailgate your way to Gillette Stadium!