Spread the #LovefromBoston
Boston is working together to spread #LovefromBoston to the world by lighting up our hotels and structures with heart symbols during these difficult times. We thank all the health care professionals working to save lives, everyone staying at home to stop the spread, and the many establishments who are staying open to provide food and essentials for everyone. We send our support to the sick and their families. We, together, will get through this! Boston supports and loves you all!  
#LovefromBoston Information: 
Running through the entire month of April, an array of Boston buildings, landmarks, arenas and hotels will be joining together to create a special message - #LoveFromBoston.
This campaign was inspired by several hotels that began to individually display heart symbols and messages of love and unity on their outer facades earlier this week. The Greater Boston Convention & Visitors Bureau (GBCVB) team saw the hearts and became determined to grow the effort into a larger citywide collaboration that would create an outpouring of empathy from Boston to the entire planet.
Photo by: Mikey Grillo Photography of the Boston Harbor Hotel
"This idea, #LoveFromBoston, is dedicated to all those individuals on the front lines of this fight in Massachusetts and across the world. From first responders and healthcare professionals, to the sick and suddenly unemployed, and to all those residing in lonesome quarantine, this message is for you. And given how hard-hit our industry has been by this pandemic, it's fitting that our Boston and Cambridge hotels were the ones to initiate this. There are now dozens of hotels participating across greater Boston."
- GBCVB President & CEO Martha J. Sheridan.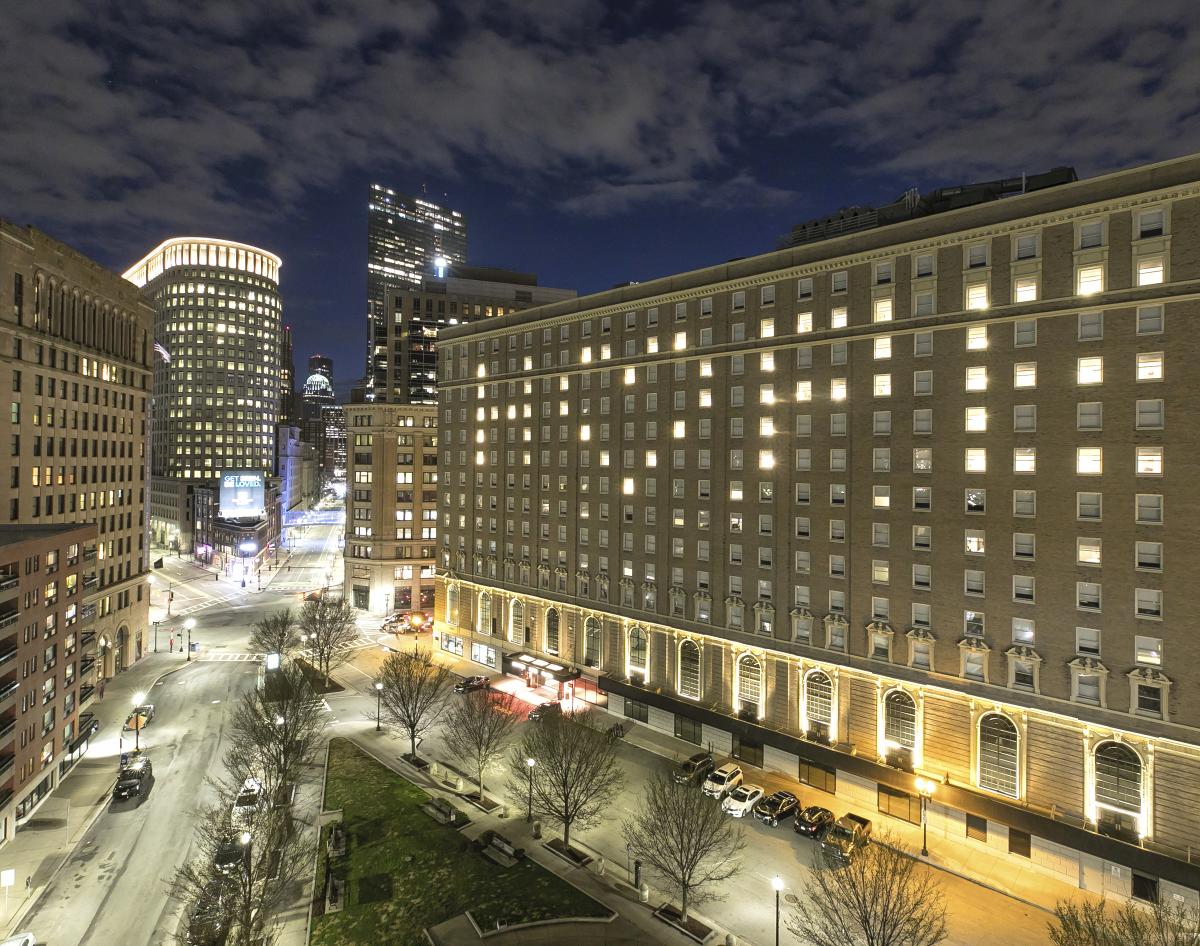 Photo by Kyle Klein Photography of the Boston Park Plaza 
One of the first hotels to start participating in this movement was the Boston Park Plaza, and along with the Bureau's efforts, this inspired so many other properties to get involved.
"The sentiments of love and hope that have been appearing on hotels across the city resonate on many levels," said Jon Crellin VP of Operations and Managing Director at Boston Park Plaza. "Certainly it's a message for everyone impacted by the current situation - those who are ill or recovering, families who may have lost a loved one, and everyone working on the front lines like healthcare workers, first responders, grocery store employees, delivery people, and more. But it's also a message to our greater hospitality and tourism community and the associates who have also been impacted.  This is a time for everyone to be  spreading kindness as widely as they can and #LoveFromBoston is a big part of that.  We're proud to support our city, and we will get through this together."
- Jon Crellin VP of Operations and Managing Director at Boston Park Plaza.
The Bureau reached out to Mayor Martin J. Walsh to help amplify this important message and City Hall will be lit red on Saturday, April 4, to show support for the launch of this campaign.
"The #LoveFromBoston campaign embodies the spirit and strength of Boston," said Mayor Walsh. "I want to thank the tourism and hospitality industry for offering their thanks to the selfless workers who are working day and night on the front lines to keep our city healthy and safe as we continue to move through this public health crisis."
-  Mayor Martin J. Walsh
This campaign underscores what Boston is all about: compassion, empathy, unity and resiliency. The GBCVB has been clear to our members that they should be creative in whatever messaging they choose to display; in hard times like these, when some businesses are struggling to just keep the lights on, there is absolutely no obligation for participating organizations to use lights to join the #LoveFromBoston partnership.
Furthermore, the GBCVB is in no way encouraging Bostonian's to gather in specific areas to take pictures of these emblazoned buildings. Please take this point very seriously. This campaign aims to create a digital community invested in a shared message of love and support from Boston out to the entire world, where so many people are suffering right now.
Follow the #LoveFromBoston hashtag on social channels to see this community blossom.