MLK Day is approaching and Boston is a special place to celebrate Dr. King's life and legacy.  King considered Boston his second home, the city where he met his wife Coretta Scott King and where he earned his Ph.D. in Theology from Boston University while living on Mass Ave.
King returned to Boston several times in the 1960s to deliver powerful speeches of unity, equality, and perseverance.  In March of 1963, just weeks before being jailed in Birmingham, King spoke at Ford Hall and said, "the estrangement of the races in the North can be as devastating as the segregation of the races in the South."  Two years later, a mere month after his march from Selma to Montgomery, King journeyed to Boston and addressed the MA State Legislature before leading the first civil rights march in the Northeast from Roxbury to Boston Common.  In a speech on the Common, he decried the "twin evils of housing and employment discrimination."
Given this rich civic history connecting Dr. King and Boston, it's fitting that so many of the city's institutions honor King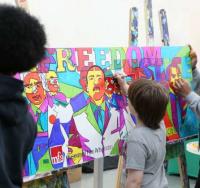 with free and commemorative events on or around his birthday.  The Museum of Fine Arts hosts its annual Martin Luther King Jr. Day Open House on Monday, January 21.  The MFA is free that day and all are welcomed to explore vibrant and interactive arts and cultural activities for all ages and abilities.  Also happening in the Fens on MLK Day, the Gardner Museum will host its Martin Luther King, Jr. Day of Service, which is focused on reflection and community involvement: listen to King's speeches every hour in the Gardner courtyard while contributing to community care projects and listening to the mellifluous notes of Gregory Groover's A Tribute to Dr. King, an interpretation of King's words through jazz, gospel and spoken word.  Other museums and attractions, including the Institute of Contemporary Art, Franklin Park Zoo and the Stone Zoo, will also offer free admission on MLK Day.
Music represents a cathartic channel by which to celebrate individuals who devoted their lives to the pursuit of human harmony.  As such, the Harlem Gospel Choir will perform Joyful Noise at Sanders Theatre on Saturday, January 19 at the Multicultural Arts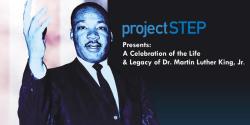 Center.  This MLK commemorative event is at the heart of the center's mission to foster cross-cultural experiences and exchange.  On January 20 at All Saints Church, the nationally acclaimed musicians from Project STEP will perform a Dr. King legacy concert as part of a free program featuring guest speaker Reverend Mark V. Scott. 
On the holiday itself, The Boston Children's Chorus will present She Persisted, a Martin Luther King, Jr. tribute concert at Symphony Hall.  The term "She Persisted" evokes the moment on the US Senate Floor when Senator Elizabeth Warren while reading a letter from Coretta Scott King, was summarily silenced by Senate leadership.  The concert on the 21st will exalt the women of the Civil Rights Movement, often overshadowed by their male counterparts in the history books, who were a fundamental source of strength and resilience throughout that period and beyond.
MLK Day inspires community dedication to shared goals.  Since 2006 Boston Cares has organized A Day ON, Not a Day OFF, to emphasize the tireless spirit that drove Dr. King as he endured decades of threats, imprisonment, and physical abuse – ultimately giving his life – for the forward movement of civil rights in the United States and the realization of a more perfect union. 
If one imagines King's life as a tapestry, Boston ties together some important threads.  For this reason, it is appropriate and imperative that civic leaders, activists, and philanthropists in Boston have come together to imagine spaces in the city to memorialize Dr. King's life and to continue his mission.  In time, these spaces will coalesce to reflect a physical bookend of King's famous march through Boston in 1965, with a Center for Economic Justice constructed in Roxbury, and a poignant and provocative King memorial residing on Boston Common.  The Greater Boston Convention & Visitors Bureau is invested in these outcomes and has made King Boston the charitable partner of its last two Dine Out Boston programs.  Ultimately, memorials and monuments are significant reminders of those movements, epochs, and individuals that we, as the American people, choose to uplift because they uplifted us; they represent so much more than specious symbols of the American past.  This is a vital and ongoing conversation in America in 2019, and for Bostonians, there is an opportunity to join the discourse at Tremont Temple on January 9 for A Community Conversation: The Power of Public Monuments & Why They Matter.  Join the conversation, Dr. King considered it our primary civic endowment and obligation.