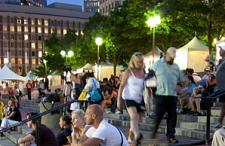 For the second year in a row, the American Council for an Energy-Efficient Economy ranked
Massachusetts the most energy efficient state in the U.S.
. The accolade is likely fueled as much by our Yankee frugality (which has nothing to do with our baseball rivals and everything to do with our penchant for thriftiness that dates back to colonial times) as our thriving and innovative clean energy sector and our aggressive energy policies. We are as fond of saving a few bucks as we are of saving the planet. It's particularly apropos therefore that Boston GreenFest 2013, a four-day festival of music, film, dance, exhibits, family activities, and more that celebrates all things green, comes with a price tag we can all appreciate: It's totally free.
A wildly eclectic array of performers, including everything from alternative rock, Latin music, klezmer, and belly dancers to Radio Disney stars will keep the event's three stages humming. The BostonGreenFilmFest (apparently, the organizers like to conserve on spaces between words along with energy) will present a series of eco-focused documentaries such as Blue Gold, which explores the looming battle over the world's water supply. Speakers and workshops will include a presentation about future transportation technology. Dozens of exhibitors, representing environmental organizations, green construction suppliers and contractors, recycling companies, and others will be on hand to share info about their work, and food vendors specializing in healthy fare will be on hand. There will even be an EcoFashion show featuring clothes and accessories made from recycled and alternative products.
Among the more quirky events will be the One Gallon Challenge, which will encourage drivers of specially designed vehicles to travel from great distances to the GreenFest using the energy of no more than one gallon of gasoline. You might want to leave your vehicle at home altogether and use eco-friendly public transportation to attend the festival. Boston GreenFest is one of the events featured in Summer Selects...Boston, our roundup of fun things to do throughout the season.
Boston GreenFest
Thursday, August 15 through Saturday, August 17
Free
Boston City Hall Plaza (T: Government Center station)
Photo: bostongreenfest.org