How was your weekend? Mine? It was great, thanks for asking. On Saturday, I was at the Boston Common on the penultimate day of the Outside the Box festival and caught wonderful performances from The Lemonheads and the Mighty Mighty Bosstones, two beloved Boston bands. Despite temperatures in the 90s (and a humidity-infused heat index officially listed as "don't ask"), the Lemonheads' Evan Dando defiantly wore a fringed leather jacket. He had nothing on the Bosstones' Ben Carr, however. Dressed in a suit and fedora, Carr, who doesn't sing or play an instrument, kept up his furious ska-inspired dance moves for the nearly two-hour set. The enthusiastic crowd was enormous, and the vibe at the Common was infectiously upbeat. Here's hoping Outside the Box becomes an annual tradition.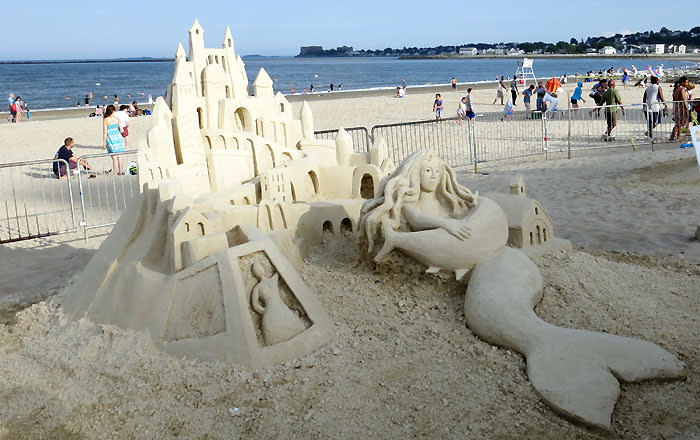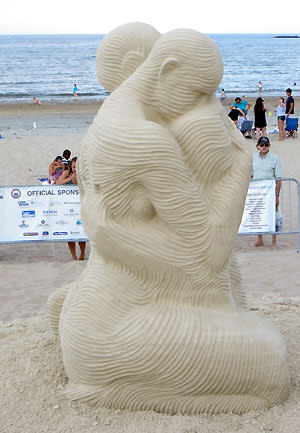 On Sunday, I journeyed to Revere for the Revere Beach National Sand Sculpting Festival. As always, the entries were eye-popping, such as the Boston Strong centerpiece dedicated to the Marathon Bombing victims and first responders seen at the top of the page and the more traditional mermaid and sand castle above.
Huge crowds ogled the sculptures, which ranged from whimsical to esoteric. Regardless of the subject matter or their levels of seriousness, all of the pieces demonstrated incredible creativity and skill, particularly for works of art that are so ephemeral. In addition to the sculptures, the event included live music, food trucks and other vendors, amusement rides (back on the boulevard where they belong, if only temporarily), and, of course, the fabulous beach itself. Make it a point to visit next year's festival. Until then, there's plenty of sand at Revere Beach for you to take a stab at your own sculptures.
Photos: © Arthur Levine, 2013.