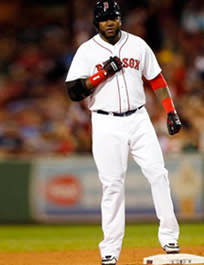 Have you caught that smell in the air? The perfume of late summer's flowers is fading, and the sticky-sweet scent of coconut-infused sunscreen is all but gone. They've been replaced by the more earthy aromas of fall that waft on gentle, but insistent cool breezes. But there's another, subtler odor settling over Boston and all of Red

Sox

Nation: It's sure starting to smell like the playoffs. And, dare I say it? Something beyond the playoffs.

There, I said it. I don't want to jinx anything -- and yes, we Sox fans have had more than our share of post-season heartache through the decades -- but as Curb Your Enthusiasm star and sometime Martha's Vineyard resident, Larry David, might say, things are looking pre-tty, pre-tty good. (Actually, that Larry David reference might be a terrible jinx, considering how things horribly devolve on his HBO show.)

I mean, did you see that September 4 game against Detroit? The 20-4 blowout was more like a home run derby with the Sox unloading eight blasts, two of them courtesy of Mr. This-Is-Our-Bleeping-City, David Ortiz. Did I mention that Detroit is at the top of the American League Central standings? Or that Boston is perched at the top of the American League East standings? Things are looking pre-tty, pre-tty good, indeed.

Then there was the come-from-behind theatrics at the September 5 game against the team-that-shall-not-be-named. (Clue: They are from a city that rhymes with "you dork.") The Sox blew a 7-2 lead and fell apart in the seventh inning, but rallied to eventually win in extra innings -- which has become something of a modus operandi for the revived team.

So yes, things are smelling a heck of a lot better than last season, when the aroma of fried chicken emanating from the clubhouse combined with the foul odor of desperation from a manager and a team gone horribly astray really stunk up the joint. With my jinx shields set to maximum, I'm looking forward to the smell of apple cider donuts, pumpkins, and decaying leaves as I watch Sox pitchers blow warm air into their hands to smoke the opposing team's batters.

Photo: MLB Advanced Media.