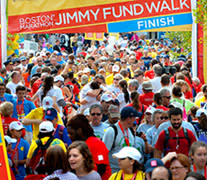 It's always a great idea to participate in the annual Boston Marathon Jimmy Fund Walk. By raising funds for the
Dana-Farber Cancer Institute
, walkers and their donors support a great cause. Also, participants who may not be able to run in the actual Patriot's Day marathon can get a sense of the historic event by walking the route (or at least a portion of the route). But this year, there is an even more compelling reason to join in the fun scheduled for September 8 -- and it's not just that it is the event's 25th anniversary. This will mark the first Jimmy Fund Walk since the Boston Marathon bombings.
I'm no Carnac the Magnificent (kids, ask your parents if you don't get the Carnac allusion), but I'd divine that next year's Marathon will have the biggest field, welcome the most spectators, and attract an oversized amount of attention. Why? It won't be so much defiance, but a way for Bostonians to reclaim the event and celebrate its true spirit. It will be a way to demonstrate, in no uncertain terms, what it means to be Boston Strong.
Likewise, the Jimmy Fund Walk, which is strongly linked with the Marathon, offers a way for participants, donors, and spectators, to show that life goes on and that the important work we do, the fun that we have, the ways we help one another, and our sense of community will not be deterred. Whether you walk, give funds, or cheer on others, consider getting involved.
Boston Marathon Jimmy Fund Walk
Sunday, September 8, 2013
Four options available, ranging from 3 miles up to entire Hopkinton-to-Boston marathon route
Photo: Dana-Farber Cancer Institute