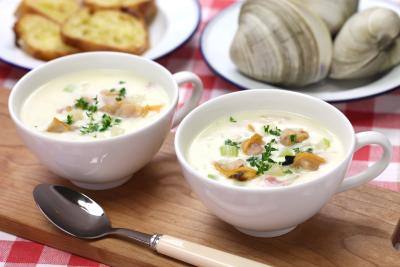 It's 30 degrees in our fair city as I write this. With the ever-present wind chill factor, it feels like a brisk 17 degrees. (Fun fact: Despite its Windy City nickname, Chicago registers less wind, on average, than Boston.) And there's a major storm brewing for the weekend. Not that we're complaining. We're a hearty (pronounced "hah-ty") bunch.

I'll let you in on one of our secret antidotes to winter: clam chowder (pronounced "chow-dah"). There are hundreds of eateries in and around the city that have chowder on their menus. So where should you head to sample a steaming bowl of Boston's legendary concoction? One place that you might want to consider is Anthem Kitchen + Bar in Faneuil Hall Marketplace, which won top honors at the 2012 Chowderfest, part of the Boston Harborfest. It is known for its sinfully rich, uber-creamy base. The clam chowder at the Chart House on Boston's waterfront is so legendary, it has earned Hall of Fame status at the Chowderfest. Its chowder is also quite creamy. Some like their chowder so thick that they can stand a spoon up in it. Not me. I prefer it without thickeners and with less of a heavy hand on the rich cream. The chowder at Legal Sea Foods fits the bill. I'm apparently in good company. The restaurant's chowder was on the menu at the recent presidential inauguration, as it has been for every inauguration since 1981.

I'm going to share a secret with you: In addition to its traditional white New England clam chowder, I'm also a fan of Legal's red, tomato-based Rhode Island chowder. Oh oh. That admission puts me at risk of being ridiculed mercilessly and possibly run out of town. We take our chowdah pretty seriously here.