When the warm weather moves in, Bostonians move out! There's something about dining al fresco — does the food really taste better? Or are we just so happy to be outside in the fresh air? Invariably, Boston's al fresco dining season seems all too brief — so let's make the most of it while the temperatures are warm, the skies blue or starlit and the food oh so local, fresh and delicious!  Restaurateurs across the city appreciate this warm weather treat as much as diners and set up tables and umbrellas in any space they can manage.
This summer, take dining to new heights with rooftop options with awesome views. Some of the best dining lookouts are found in the hip and happening Seaport District. Prefer more terra firma? There are numerous sidewalk patios and terraces to choose from — just stroll along Newbury, Boylston, or Tremont Streets to name a few.  And there are the popular semi-al fresco options, found especially in Boston's North End neighborhood. While there's a roof over your head — the front wall virtually disappears leaving diners seemingly outside. People watching is always on the menu! There's a few hidden gardens for summer outdoor dining — so secluded, you'll just have to find them for your own "secret garden" dining.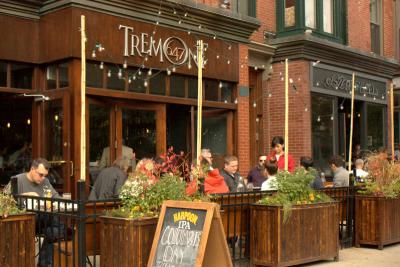 Some of the patios in and around Boston are outfitted with furnishings that might very well be more comfortable than your dining and living areas at home!  Many offer urban campfires and fire pits for ambiance, s'more toasting and heaven forbid —  to take the chill out of the air. Others indulge you with variations of "lawn" games, classic board games — some oversized and live music of various genres.  There's even al fresco dining places that welcome dogs — talk about the dog days of summer!  How cool is that?
The new addition to the outdoor culinary scene are the ubiquitous and delicious food trucks —spread across 15 public locations including 35 trucks on the Kennedy Greenway alone! It's like an old-fashioned picnic without the fuss! Added perks include no reservations and seating is optional. Maybe you'll wait in line for a few minutes, but the redeeming factors override this downside: fresh air, fresh food and a sense that life is good!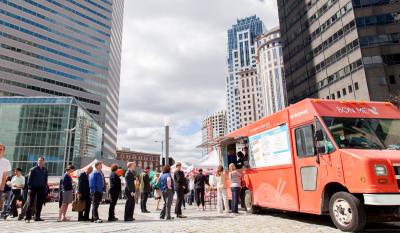 Whether it's a gentle breeze at brunch, a sundrenched lunch (umbrella optional) or a 3-course dinner served while the sun sets and the night sky lights up — everything simply tastes better al fresco!
Remember to mark your calendar for the August culinary adventure, Dine Out Boston®. You'll be able to savor creative and delicious cuisine at over 150 restaurants throughout Greater Boston at some very special prices — whether dining inside or out!