4th of July in Boston - 2021
Attend the best birthday party in the country! Boston celebrates the 4th with spectacular fireworks, historical reenactments & more!
July 1 - 4, 2021
Annual Boston Harborfest Celebration 
Taking place July 1-4, the 2021 Boston Harborfest is a family-friendly event that includes historical reenactments, live music, parades and a fireworks display over Boston Harbor on July 3rd. 

Sunday, July 4, 2021
2021 Boston Pops Fireworks Spectacular
The Boston Pops July 4th Spectacular will take place at Tanglewood, where Keith Lockhart will lead a live televised and live streamed performance of patriotic favorites, with special appearances by Jon Batiste, bandleader of The Late Show with Stephen Colbert, and legendary singer Mavis Staples. The fireworks finale—to take place from the Boston Common in partnership with the City of Boston—will also be broadcast as part of the live-streamed performance. 
Television Broadcast: On Sunday, July 4, 8-11 p.m., the program will be broadcast live on Bloomberg TV and radio, as well as locally in Boston on WHDH-TV Channel 7, with the fireworks finale 10:30-11 p.m.
Please note: There are no official public viewing areas on Boston Common, but the fireworks will be visible from Parade Ground (corner of Charles and Beacon), Frog Pond, and other areas with sightlines to the Boston Common. View map.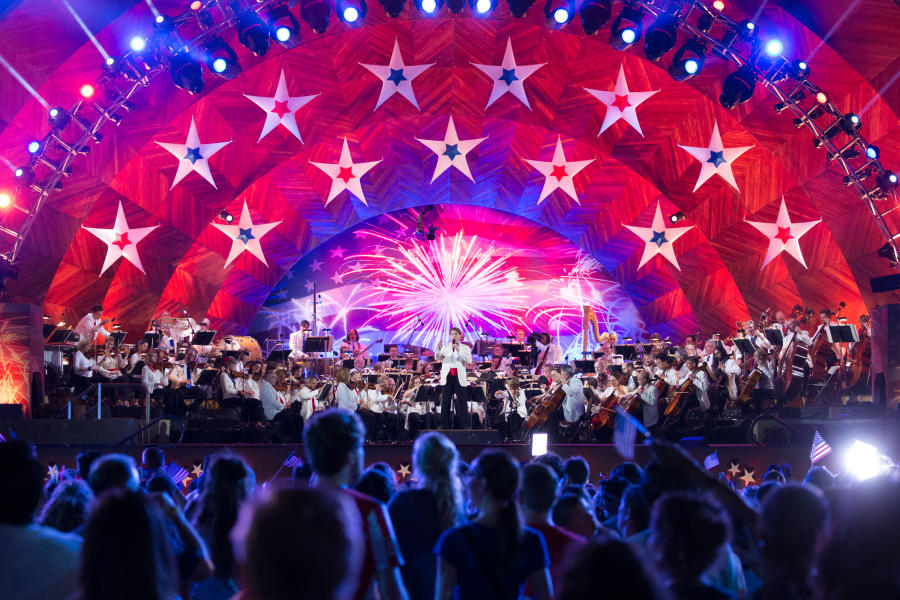 Reading of the Declaration of Independence 
You can hear the Declaration of Independence read from the balcony of the Old State House —by the current Captain Commanding of the Ancient and Honorable Artillery Company—just as it was read to the citizens of Boston on July 18, 1776.
You can attend this year's reading at Harborfest on July 4, 2021. Or experience past readings of The Declaration of Independence through this link on YouTube, and in the video below by Burkco Video.
Boston is home to an unrivaled array of landmarks & institutions that reveal a storied history of ingenuity, innovation, & trailblazing leadership.
Check out our list of summer traditions, events, & activities.
Extend your Summer in Boston experience! Make it an overnight with these Summer getaway packages from participating hotels.
GREAT DEALS
Our Great Deals offer specials, discounts and savings on: museums and attractions, tours, family fun and dining.