Boston Patriots' Day Events
Patriots' Day is Monday, April 20, 2020
Though traditional Patriots' Day activities have been canceled due to the state emergency order, historical commemorations and resources are available to you as virtual experiences.
Experience Patriots' Day Virtually!
Concord Museum
The Concord Museum is encouraging you to muster and march for Patriots' Day - send pictures and videos of your family's march  via Instagram to @concordmuseum for a chance to be featured on their social media channels!
History at Home highlights Concord's history through gallery tours, collection spotlights, Forums, and family activities via Facebook.
The Lexington Historical Society​
Access house tours, children's content, and previous year's recordings of reenactments - See all the programs that will take place from April 18-24.
Minute Man National Historical Park
Check out Facebook Live on April 17 and 24 at 10:00 A.M for their "Ask a Ranger" Session. Also check out the park's Facebook page for veteran reenactors and historians video interviews.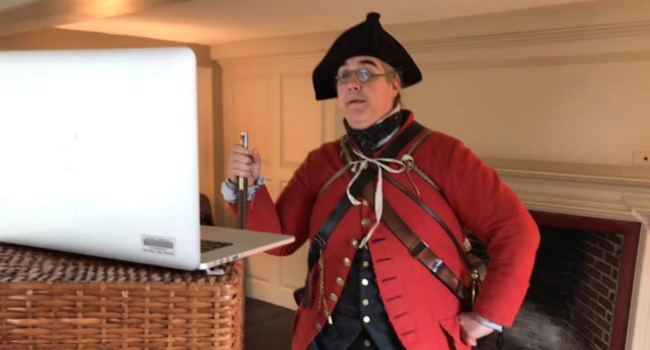 Facebook Live - Ask A Ranger! Hosted by Minute Man National Historical Park and Friends of Minute Man National Park
Old North Church
In celebration of the night that cemented Old North Church's place in history, the "one if by land, two if by sea" lanterns will be lit on display in the steeple on Saturday, April 18 from sundown for three nights and days to mark the historic anniversary of Paul Revere's legendary ride. Watch in real-time by tuning-in live on YouTube or Instagram. Download and print out a special lantern image and share your creations with the world between Saturday, April 18 and  Monday, April 20 by tagging @oldnorth1723 and using the hashtag #FindYourLantern. 
A new web series, "99% Sure" is all about the history, people, and events that made Old North the legendary historic site you know and love. Tune in every other week as Old North's Education Manager and intrepid public historian TJ Todd explores some of our most frequently asked questions and shares some of his favorite stories and facts about Old North. History and research can be tricky business, but we're 99% Sure that everything you hear in this series is true.
Freedom Trail
Enjoy Freedom Trail Foundation resources - access to history lesson videos and audio guides of the Freedom Trail.

Action Tour Guide offers a GPS self-guided audio tour of Boston's Freedom Trail, fully narrated mobile apps available for download.
Important Updates for Patriots' Day 2020
Old North Church: Annual Lantern Lighting  
Old North Church & Historic Site will postpone their annual celebration to the fall. Commemorate the night the two lanterns were held in our steeple launching the American Revolution. Truly a one-of-a-kind experience, The Lantern Ceremony brings together community leaders, history lovers, neighbors, and visitors from across the globe for an evening filled with pageantry and inspiration. This uplifting and enduring event supports the advancement of Old North's mission and celebrates our legacy of courage, liberty, and civic engagement.
Liberty Ride   
The Liberty Ride Trolley tour will not operate in April. For those who already purchased tickets, you will be offered a refund or credit. The season is expected to start on Saturday May 2nd.
Patriots Day Parade in Boston  
The Patriots' Day Parade in Boston is canceled for 2020.
Patriots Day Parade in Lexington 
Minute Man National Historical Park in collaboration with the Towns of Lexington and Concord, and other event(s) partners have announced the cancellation of planned April 2020 Patriots' Day celebration(s) traditionally taking place within the park.
Lexington Green and Concord North Bridge Reenactments  
These events have been canceled.
Boston Marathon 
The Boston Marathon is the world's largest annual marathon, held annually on Patriots' Day, is rescheduled for Monday, September 14, 2020.
Boston Red Sox Game
This Boston Patriots' Day tradition will be postponed. Start of the 2020 regular season has been pushed back and is TBD