27th Annual Golf Tournament
Save the Date
Wednesday, June 29, 2022
We are excited to announce that we will be celebrating our 27th Annual GBVCB Golf Tournament on June 29 at the scenic Pinehills Golf Club! 
Mark your calendars. we can't wait to see YOU……no ZOOM allowed!

Thank you!


The 26th Annual GBVCB Golf Tournament on July 28, 2021 was a great success! A BIG thank you to the scenic Pinehills Golf Club for hosting, the internal Golf Committee for working with us to organize it, our members who donated auction and raffle items, program sponsors, the golfers who joined us, and David Fox for taking photos on this beautiful day - see the full gallery of photos. We look forward to seeing you again next year!
Golf Committee Awards Scholarships 
On September 7, the GBCVB presented scholarship checks to two outstanding students on behalf of the Annual Golf tournament Committee. Thank you again to the program sponsors, and members who donated raffle and auction items to make this possible.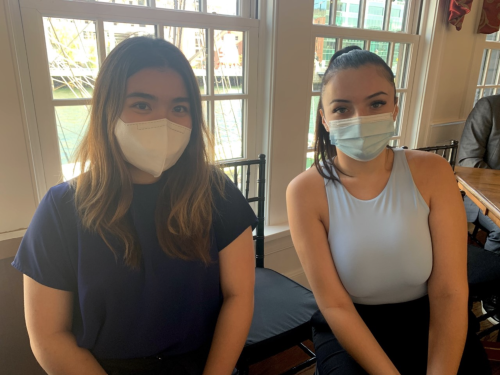 Tina Lei (left), from Brighton; Attended Boston Latin; 3.42 GPA
Tina participated in the BU Ascend program – Ascend Fellowship is open to Black/Caribbean-American/African-American, Hispanic, Latin/o/a/x, Indigenous/Native American, Pacific Islander, and First-Generation college students – generally 30 students per year are accepted to the program.
Jessica Gil (right), from East Boston; Attended Boston Latin; 3.22 GPA
When Jessica initially came to BU, she was an education major. She had worked in restaurants throughout high school for extra cash but never thought of making a career out of it. She had a manager who also graduated from BU and quickly became a role model and inspiration to join the hospitality industry. Ever since, Jessica has been working in hotels and restaurants around the city. Currently, she's employed at the Liberty Hotel, with a position as an HR manager when she graduates in the fall. Switching majors freshman year was the best decision she's ever made.
Learn more about New England's premier daily fee golf experience. Two championship golf courses by Rees Jones and Nicklaus design.