Fall in Boston is always unique.  Whether you are a first-time visitor or lifelong resident, as the leaves start to turn and the air becomes brisk, the blue skies remain crisp and there's just nothing like it.  Energy is everywhere: students returning, activity along the Charles, apple-picking and pumpkin-themed parties, performing arts back on stage, holiday celebrations and commemorations, the return of home games at TD Garden and Gillette Stadium, and, if we are lucky, postseason baseball at Fenway Park. 
In any year, this lineup of events makes Boston an autumnal paradise.  This year, however, is unlike any other; we invite you to fall for Boston like never before as we have a marathon of events on tap (and not just Oktoberfests).  In fact, the Boston Marathon itself is set to occur this fall, something that is truly unprecedented.  And in that vein, just in case you need more convincing, here are 26 reasons (one for each mile) for you to visit the Hub in the next few months.  
Great Sporting Events:
Let's get right to it.  The Boston Marathon happens every April on Patriots' Day but the world is upside down and the race didn't happen in the spring 2020 or 2021.  So, how about a fall Marathon?  How about some fall foliage instead of spring blooms?  Come check it out!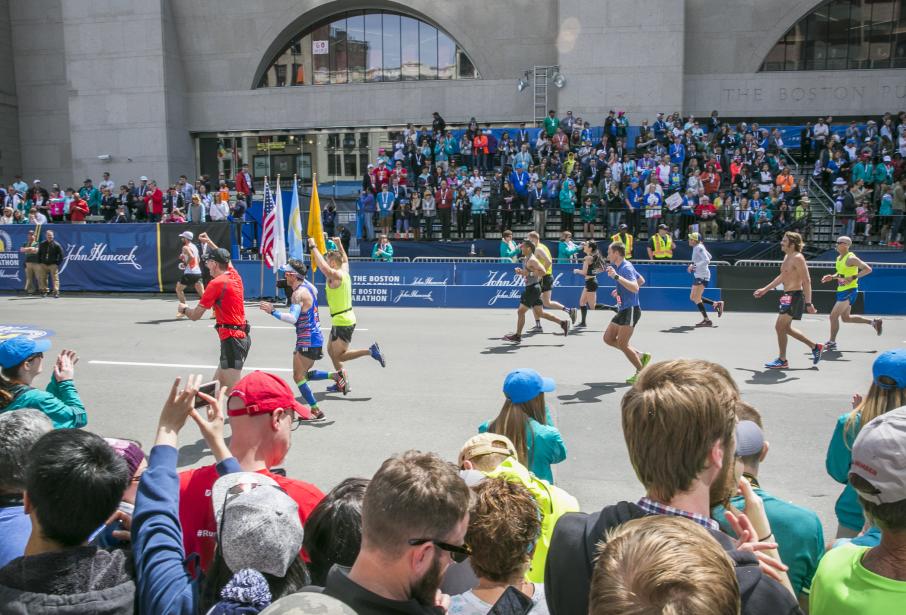 Photo by Kyle Klein
Speaking of sporting events with an autumnal backdrop, the Head of the Charles Regatta always occurs in October and this fall is no different.  Head to the banks of the Charles to watch the most famous two-day regatta on the planet, with student athletes from across the globe descending on Boston to compete.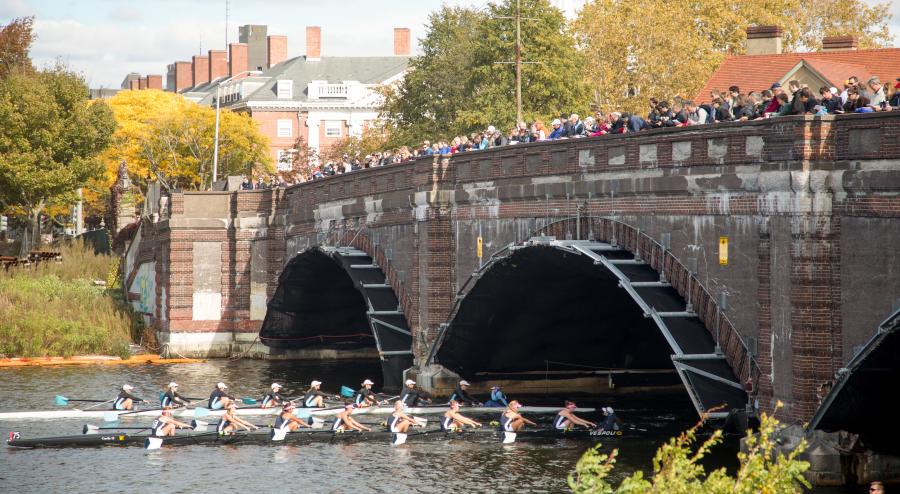 Photo by Kyle Klein
Roger Federer may be out, but his tournament is back on!  The Laver Cup comes to TD Garden September 24-26, featuring some of the sport's tops stars from Europe and across the globe.  Don't miss Americans John Isner and Reilly Opelka competing against European stars such as Russia's Daniil Medvedev and Greece's Stefanos Tsitsipas.
A few weeks later, TD Garden really gets down to business as both the Bruins and Celtics return to regular season action.  Both teams will look to contend this year in their respective conferences.  Opening night for the Celtics is October 22 versus Houston, while the Bruins hit the ice for the first time October 16 versus Dallas.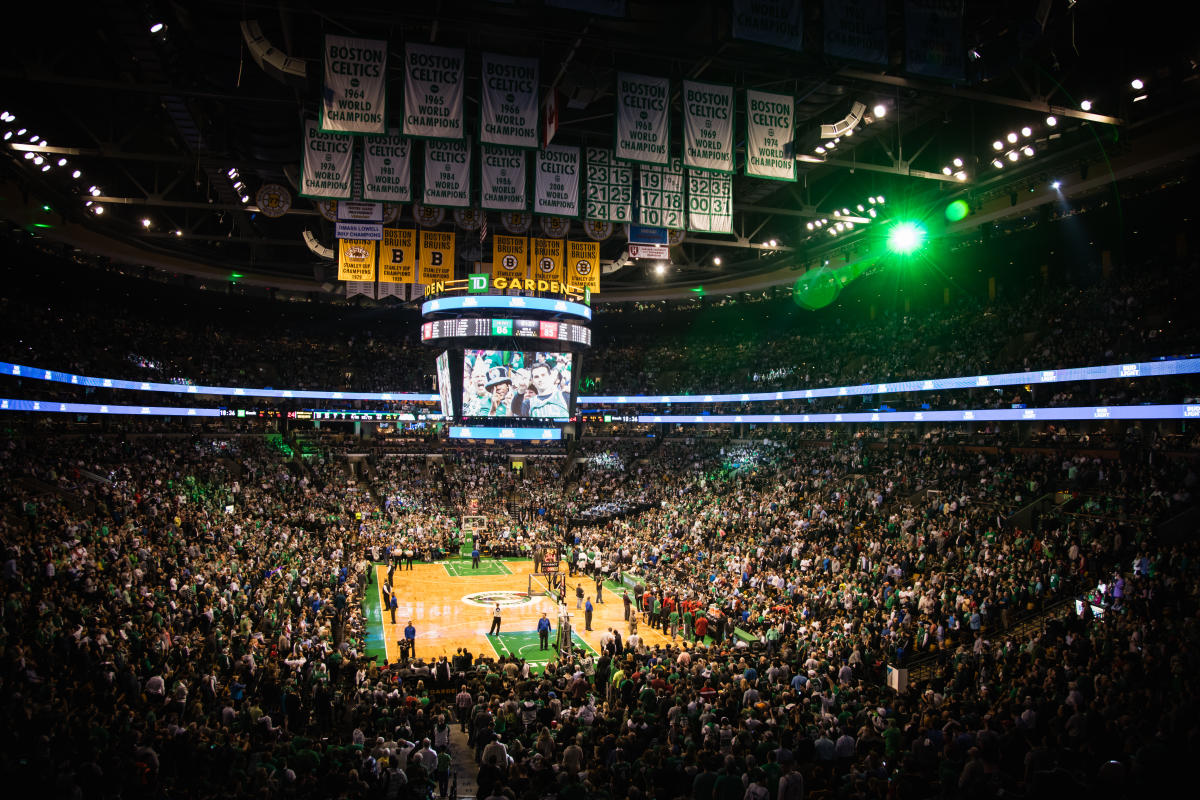 Photo courtesy of TD Garden
Meanwhile, down at Gillette Stadium, the New England Revolution are in the midst of a remarkable run that could carry them to the Supporters' Shield and beyond.  Maybe, just maybe, it's time for the first MLS Cup to arrive at Gillette Stadium.  It sounds odd that any championship trophy wouldn't be accustomed to the friendly confines of Gillette. After all, the New England Patriots lifted the Lombardi six times over the past two decades and after one lackluster season they'll be looking to get back on the podium.  Of course, it was some guy named Tom Brady who led the way to all those trophies, and he'll be visiting his old stomping grounds Week 4 when the Pats host the Tampa Bay Buccaneers on October 3.
While all these sports seasons are getting underway, the Boston Red Sox will be approaching the end of their regular season and looking to make the playoffs for the first time since 2018 when they won the World Series.  Will October baseball return to the Fens??  We hope so!
Festivals:
If you are looking for immersive activations, then Boston will not disappoint this fall.  From artisan markets to farmers markets, food festivals and cultural celebrations, there is ample opportunity to experience locally sourced, and locally organized, events that showcase the best of Boston's creative economy.
New on the calendar this year will be Soulful Bliss happening on Spectacle Island September 18.  Boston Harbor Now has joined AfroDesiaCity to organize an artistic festival featuring local talent and an array of genres that collectively evoke a soulful experience while advocating for the arts – snacks and refreshments will be available, including delicious craft beer and cider from Night Shift Brewing.
The next day, back on shore, another exciting festival is taking place on the Kennedy Greenway – The Boston Local Food Festival returns September 19.  As always, the enduring themes are sustainability and how local, healthy food options are critical.  Head to the Greenway on September 19 to celebrate the intrinsic value of local food economies and how vital they are to a sustainable future.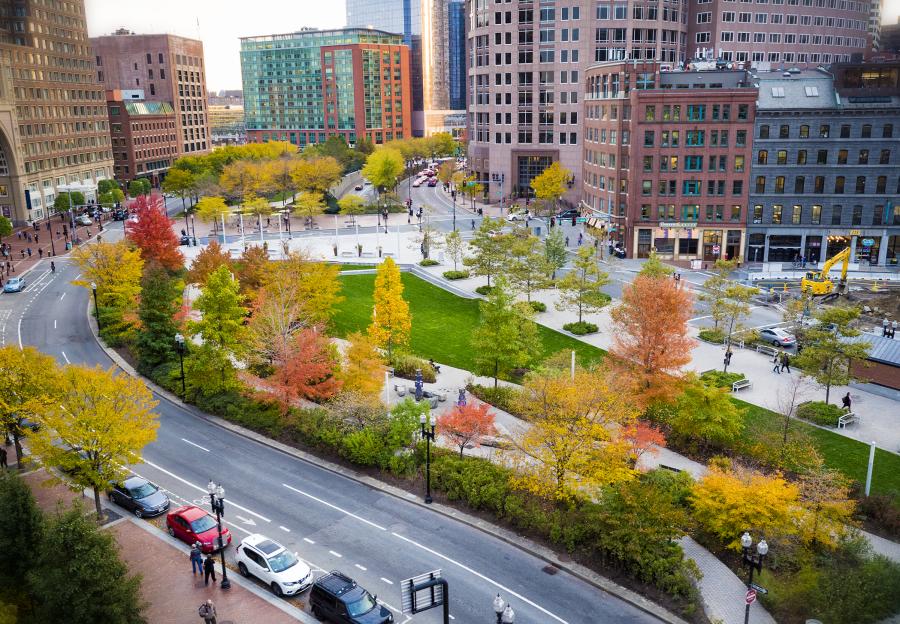 The Greenway, Photo by Kyle Klein
The Greenway is also home to the Greenway Artisan Market, which operates every Saturday through October.  And if artisan markets are your thing, why visit one when you can visit two?  Head to the SoWa District for SoWa Sundays in the South End, where local artists offer their works and wares alongside food trucks, beer gardens, and a farmer's market.  Speaking of farmers markets, they continue across all of Greater Boston well into fall, from Copley Square and Central Square, to Roslindale Village and beyond.
Meanwhile, cultural festivals abound this fall, with Savor the Square continuing in Roxbury's Nubian Square on September 18 and October 16; experience the creative and entrepreneurial energies of Roxbury come alive as community stakeholders and visitors come together to pursue a strategy to brand Nubian Square as the Heart and Soul of Roxbury.  Across the river in Cambridge, the Dance for World Community takes place on Mass. Ave on September 25.  Organized by the Jose Matteo Dance Ballet Theatre, this FREE outdoor event is all about live dance, community and activism.
Finally, what's a fall festival calendar without the requisite lineup of Oktoberfest celebrations, especially in a craft beer haven like Boston?  Don't worry, we've got you covered, with local favorites Trillium, Night Shift, and Harpoon offering three consecutive weekends of fun.  First on draft is Trillium, which will host Oktoberfest events at all three of its locations September 18-19; not to be outdone, Night Shift will be pouring pilsners and marzens from its Everett location on September 25, and on Lovejoy Wharf September 26; and when October finally does arrive, Harpoon is ready to go with its Oktoberfest happening October 1 & 2.  For dog lovers, mark October 3 on your calendars as Harpoon hosts its 4th annual Dogtoberfest.
Performing Arts:
Fall is when the stage comes alive, and following a year of empty venues and silent stages, Boston is primed for an incredible return this autumn.  First, over at Fenway, the summer doesn't mean an end to ballpark concerts, and this fall Maroon 5 (September 12) and the Jonas Brothers (October 1) are ready to entertain at America's oldest MLB stadium. 
Fenway Park, Photo courtesy of Boston Red Sox
On the other side of town, at TD Garden, a star-studded lineup including Michael Buble, Twenty One Pilots, and Harry Styles is set to perform. And downtown at the Orpheum, don't miss performances by John Legend, City and Colour, and Steely Dan.
More intimate venues such as House of Blues and Royale also offer compelling concerts this fall, with Leon Bridges playing Royale on September 18, and acts such as Future Islands, Rob Wave, Thundercat and Dinosaur Jr. performing at House of Blues.
The stage promises so much more this fall, with an array of disciplines and venues going live once again.  The Boch Center will put on both "Rain" and "Rent" while also hosting amazing musicians such as James Blake, St. Vincent and Frankie Valli.  Enjoy your Broadway hits?  Well, Broadway in Boson is back this year with Hadestown on stage at the Opera House in November.  Prefer smaller venues?  The Speakeasy Stage Company production of "The Sound Inside," a 2020 Tony Award Nominee, opens at Boston Center for the Arts on September 16.
And, of course, all the iconic and award-winning ensembles, outfits, and theatre companies that make Boston a performing arts mecca are all back on stage this fall, including the Boston Symphony Orchestra, Celebrity Series of Boston, Boston Lyric Opera, Huntington Theatre Company, and American Repertory Theatre in Cambridge.
Museum Exhibitions:
Okay, that's a lot to digest and plan for, but we'd be remiss to not include in this roundup some suggestions for museum experiences this fall.  For starters, the Museum of Fine Arts, Boston has some world-class exhibitions that are still on display but will be ending soon.  "Monet and Boston: Legacy Illuminated" and "Paul Cezanne: Influence," are both on view through October 17, so regardless of your preference – Impressionism or Post-Impressionism – these French masters won't be around for along (well, the MFA does have the largest collection of Monet's work outside of Paris).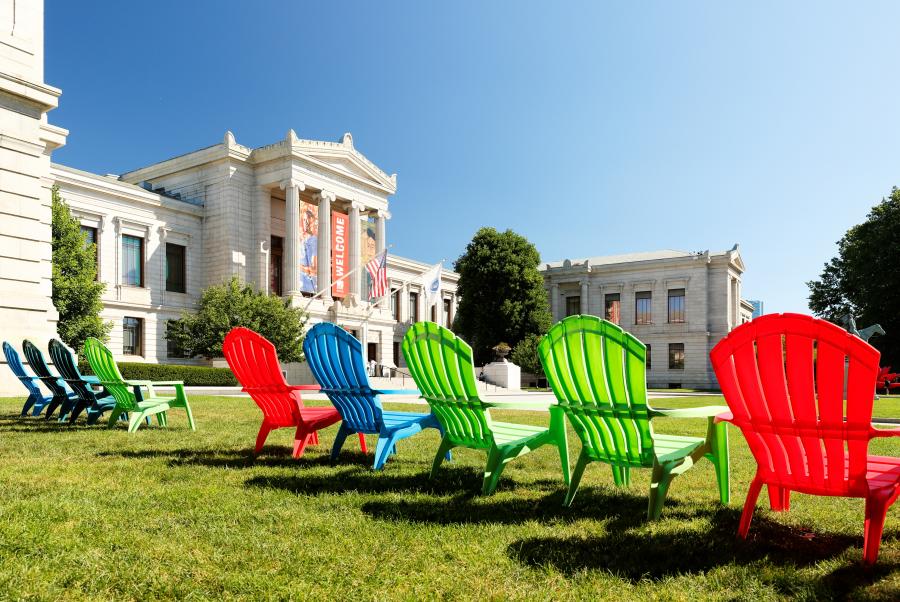 Museum of Fine Arts
Also in the Fens, at the Isabella Stewart Gardner Museum, the exhibition "Titian – Women, Myth & Power" is now open and will be on view through the fall.  This exhibition does something truly epic with Titian paintings by reuniting six works that the Venetian Renaissance artist did for King Phillip II of Spain, including the Gardner's own fully restored Rape of Europa.
Across town in the Seaport, the ICA, Boston unveils two exhibitions on September 1: the 2021 James and Audrey Foster Prize exhibition that celebrates and spotlights artists working in or near Boston, as well as Mexican artist Raul de Nieves "The Treasure House of Memory." And finally, at Revolutionary Spaces on the Freedom Trail, September 1 marks the official opening of "Heard," an audio-visual art installation from inaugural 2021 Artist Fellow James Colman.  Coleman's work explores how the deaf community in colonial America would have engaged in community and dealt with prejudice at a time of volatility and socio-political upheaval.
Fall for Boston – Like Never Before.  This is the year, truly like no other before it, for visitors to make new memories and see why there's no place like Boston in fall, especially in 2021.