BostonUSA Member Badges
Add credibility to your business with the Greater Boston Convention & Visitors Bureau "Proud Member" Logo and link your website to BostonUSA.com to offer visitors a valuable resource in planning their visit to the Boston area.  
This code links to the homepage of BostonUSA.com. Please do not alter this code. If you need assistance or would like a different size logo, please email Glenn McGibbon.
Preview (actual size)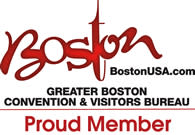 Instructions:
Highlight the HTML code in the box below then copy and paste the code into an HTML page on your website.
Dine Out Boston Logo (Only For Participating Restaurants in the Dine Out Boston program)